The following airlines fly from Flughafen Frankfurt-Hahn to Morocco, here you find an overview of all possible routes*:



Airport Frankfurt-Hahn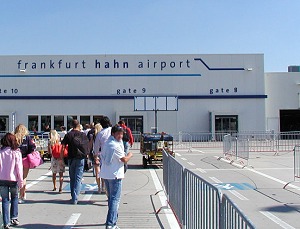 The airport Frankfurt-Hahn counts as the fastest growing airport of Germany, in particular by the settlement of budget airlines like Ryanair the passenger's volume rose last year on more than 4 millions. In Morocco the airports of Marrakesch and Fez are approached at the moment, here often one finds really cheap flights to Morocco, however, the disadvantage lies with the geographical position of Frankfurt-Hahn. Since the airport lies not how one would like to mean, close to Frankfurt, but 120 kilometres away " in the arse of the world ". :-)

The journey with the passenger car is not quite easy who owns no navigation system, should pull before a route planner to rate, at least, one cannot reach the airport directly from the highway, but must still drive just 30 kilometres " about the land ". At least, the way is well signposted to the airport, few years ago this was not the case yet. Because the airport Frankfurt-Hahn becomes more and more popular thanks to the cheap flights, there are meanwhile also regular shuttle coaches from many German and Dutch cities.

Who does not avoid the complicated journey, it is mostly recompensed with cheap flights, just the flights to Morocco are a real confidential tip for savings foxes. And who uses a shuttle coach, can lean back calmly and can be driven for some euro. The coaches operate as a rule in such a way that between arrival of the airplanes and the departure of the coaches hardly waiting periods originate.

Airport Frankfurt-Hahn (Code: HHN)    Arrivals    Departures





* No guarantee on correctness and completeness of the information, all information were taken for the most part from the sites of the airlines or correspond to personal experiences with the respective airline. Should still one or other cheap flight to Marocco be missing on this site, please send me an

email

.